Verification documents may be requested at various times while you maintain an account with Stardust Casino. These documents are requested not only to enhance the security of your account and to comply with the terms of our Know Your Customer protocol but to comply with state and federal regulations as well.
During Account Creation:

Every account with Stardust Casino has the opportunity to pass an automatic verification system. This system will check information that you input (such as social security number, birthdate, and full name) and will automatically verify your identity if everything is in order. However, if the details cannot be verified automatically with the information that was registered, the account will not complete the creation process and no further activity can be performed (such as depositing money or playing games) until verification is reattempted and ultimately completed. If the automatic verification cannot be completed four times, you will be prompted to upload documents directly to your account. These documents include:
Photo ID (Passport, driver's license, state ID, or military ID)

Verification of current address (Utility bill dated within the past three months)

Social security card
Upon Request:

From time to time, our Security team may request documents related to your identity, address, or financial instruments. These requests may seem random, but rest assured that everything is done with both our security and yours in mind! As your account is already active, you will have access to our secure document uploader. You can access this uploader by first clicking on your profile picture. Then, select the Information & Security tab. Finally, select "Upload a document". From there, you will be encouraged to upload your documents directly to your account.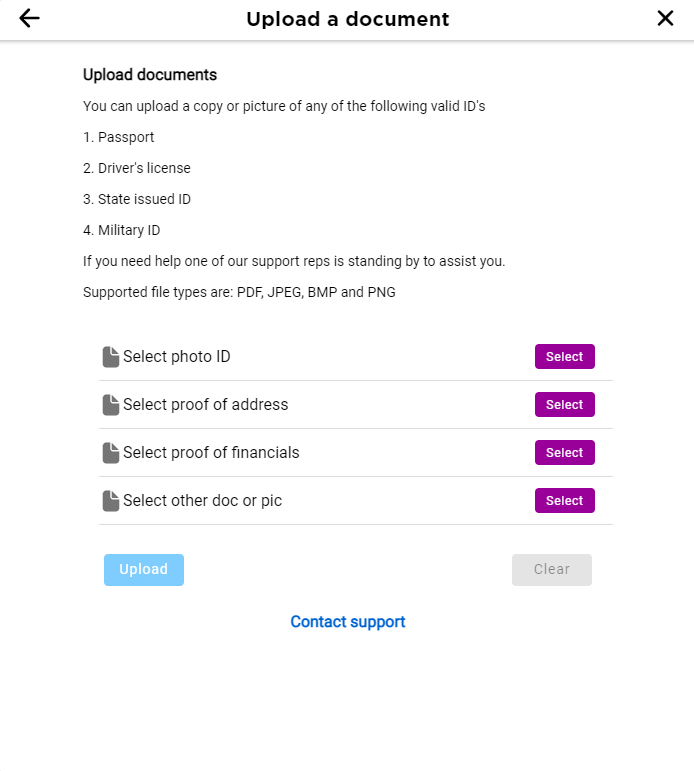 Please do not send any documents to Customer Support or submit them through live chat.