The Stardust Prepaid provides a fast and easy way to deposit and cash out while playing online at Stardust Casino. It is a great way to manage your money and can be used everywhere Discover® is accepted. The Stardust Prepaid has a very high approval rate when loading funds and is easy to use.
You need to complete a one-time enrollment and verify your mailing information and agree to the terms of the program. Upon successful registration you will have the opportunity to add funds to the card immediately using a credit or debit card, PayPal, or Online Banking. Your personalized card will be mailed to your address on file within 10-14 days of funding the account if you deposit an aggregate total of $150 to Play+ OR withdraw an aggregate total of $150 to your Play+ account. You can also contact their support to request a personalized card (855-558-0043).
The card's spending limit is determined by the amount of money you load onto the card up to the maximum balance. For example, if you load $350, then the card will only allow you to spend up to $350 (less any applicable fees). You can use your card for purchases everywhere Discover® is accepted and at any ATM that accepts PULSE® and NYCE cards.

How do I fund my Stardust Prepaid with a Credit or Debit Card?

Fund your Stardust Prepaid by logging on at Stardust Casino and visit the Deposit Page.
Go to the Cashier and click "Add Funds

Select "Stardust Casino Play+" & Click Enroll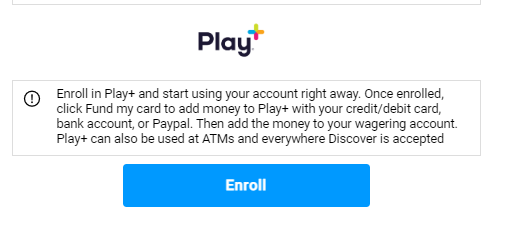 Confirm your personal information & Agree to the Terms and Conditions of the program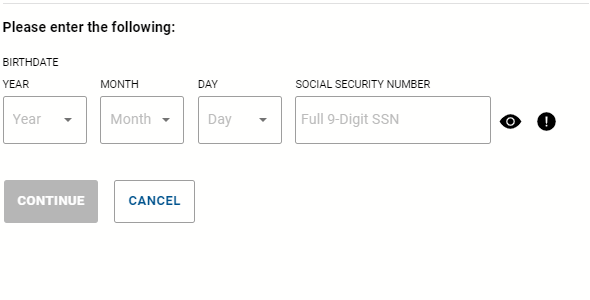 Enter the amount you would like to transfer to your new pre-paid card & select a funding method


Visa credit or debit card number you wish to fund with in the appropriate field (Mastercard are currently not accepted)

PayPal

E-check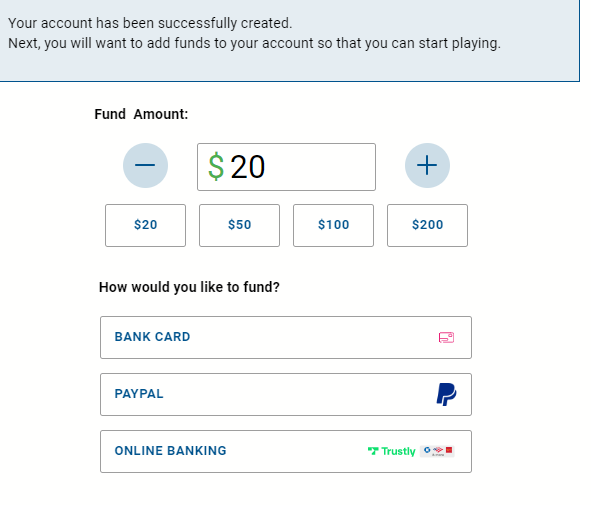 Once the card is funded, you will be required to transfer the funds into Stardust Casino by clicking the "Add Funds" button on the deposit page.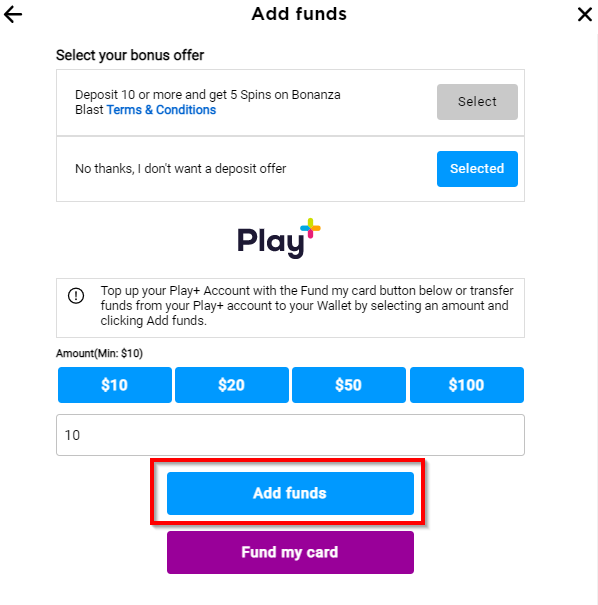 | | | | |
| --- | --- | --- | --- |
| Limits | Standard | VIP | VIP Select |
| Account Maximum Balance | $25,000 | $100,000 | $1.000,000 |
| Deposits from Wagering Account1 | $25,000 | $100,000 | $1,000,000 |
| ATM Withdrawals per Transaction2 | $500 | $500 | $500 |
| Daily ATM Withdrawals2 | $500 | $1,000 | $3,000 |
| Monthly ATM Withdrawals2 | $5,500 | $30,000 | $60,000 |
| Point of Sale Purchases/Cash Advance per Transaction3 | $5,000 | $5,000 | $7,500 |
| Daily Point of Sale Purchases/Cash Advance3 | $5,000 | $5,000 | $7,500 |
Funding Limits
Daily Limit
7-Day Limit
30-Day Limit
Accountholder Aggregate Funding Deposits (Credit/Debit card, eCheck, PayPal, Cash, etc.)
Standard Accounts
$2,000
$4,500
$10,000
VIP Accounts4
$10,000
$30,000
$70,000
VIP Select4
$100,000
$300,000
$700,000