How do I reset my password?
Resetting your password only takes a few steps!
1. Start at the login page and click the forgot password link: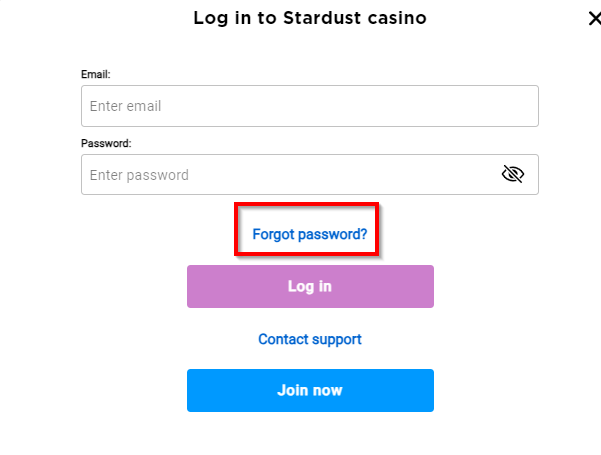 2. Enter your email address, You will be sent an email with instructions on how to reset your password: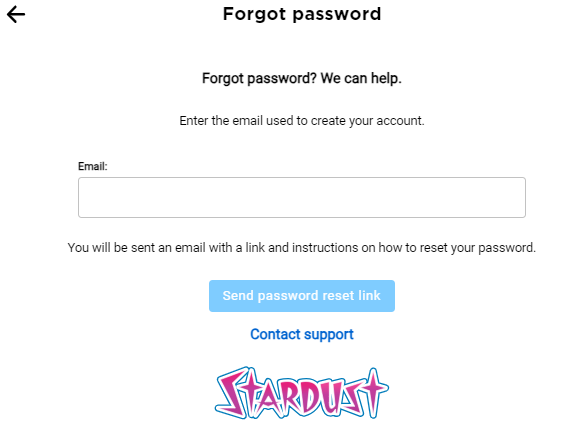 3. Please follow the prompts in the email to reset your password.


If you do not remember the answers to your secret questions or if the email address registered with your account is no longer in use, kindly contact Support
Related Articles

Forgot Password

Forgetting your password can be easy to do. Fortunately, resetting your password is easy as well! Simply click on the 'Forgot password?' icon at the bottom of the login screen. Enter the email address registered with your account and click 'Submit'. ...

First time logging in

If you already had a Stardust Casino account before May 02, 2023, you can continue using the same account on the new Stardust Casino site. The first time you login, you will be required to go through a one-time process of resetting your password and ...

Update Address

If you have recently moved or need to update your current address, you can send your request directly to our Security team at Security@stardustcasino.com. In addition, please upload one of the following documents to your account: Rental Agreement ...

Update Phone Number

If you have recently changed your phone number, mistyped your number on registration, or no longer have access to your number for any other reason, you have the option to update your phone number. To do so, first click on your profile picture. Then ...

What do I need to do and what will happen to my account?

Login to the New Stardust mobile app or in your web browser with the same login credentials you created at NJ Pala Casino. That's it! Your balance, bonuses, email address, and password will automatically transfer to the New Stardust Casino. If you ...